eCommerce in Kenya: are we entering the era of social shopping? According to the Global Digital Stats and Report, there were 22.86 Million internet users in Kenya in January 2020. Social Media Users summed up to almost 8.80 Million. This shows customers are already engaging with brands through social media, and if you're not engaging directly with your audience through social platforms like Facebook, Twitter, and Instagram, you're missing out! 
Great digital marketing strategy on social media can bring remarkable success to your business, creating devoted brand advocates and even drive leads and sales. But with that said many small local businesses in Kenya are facing challenges, especially with the ongoing crisis, resulting in many being unemployed and in other cases, loss of revenue. For some, they may not be able to make rent for a physical shop. With Social Commerce or social shopping, some of those challenges can now find solutions.
eCommerce in Kenya can be a route to business growth, all you need to create a successful online business is a product that works and solves a problem. The other is to have a seamless purchase funnel that makes it easy for consumers to buy.
And this is what big brands and e-commerce platforms are doing with social commerce.
So, what is social commerce? Social commerce is selling products directly within social media platforms. With social commerce, the store — the entire shopping experience — happens without the customer ever leaving the social media site. It is a piece part of e-commerce in Kenya.
Social Commerce or Social Shopping is still a new concept in Kenya, But we feel it would be great if local businesses in Kenya would broaden their customer base by leveraging on Social Shopping.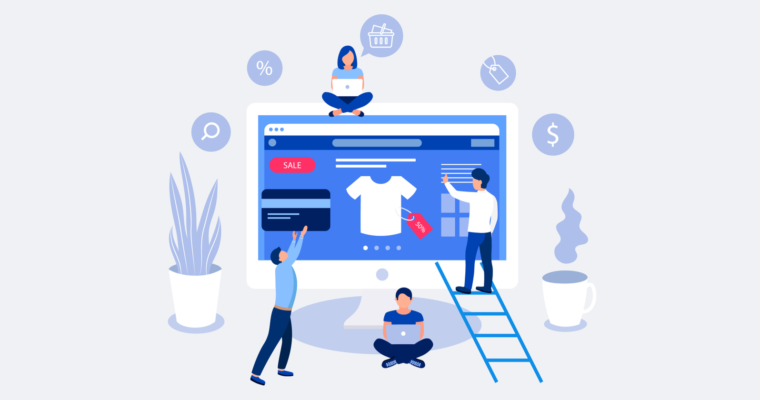 So we will focus on 2 main Social Commerce Networks for Marketers to use in Kenya.
We feel Instagram is a great platform for great social selling. So many people flock there to view beautiful images and videos. Instagram introduced a Shop Now button and implemented product tags so users can quickly identify the products they see in ads and their prices. Instagram's Shoppable Posts go live giving brands the ability to tag items in organic posts which, when tapped, brings up a new page which leads to a checkout.
From the moment of discovery to make a purchase, every part of the mobile shopping experience should feel seamless. Instagram makes it easy for online shoppers to fall in love with your products and quickly make them their own. Recently Instagram introduced an in-app checkout, shopping for creators, and ads. Giving the audience an easier way to shop by simply: See, tap, shop  – Connect with future customers – Shop now or save for later  –   Checkout. Start social commerce with Instagram shops .
There are major developments with Facebook's Social Commerce efforts. It recently launched the Facebook shop, which helps even small business sell their products more conveniently online. Learn more about Facebook Shops and hear from Mark Zuckerberg about the recent announcement and their vision for commerce on Facebook. Facebook is one of the best platforms to start your social commerce plan. This platform enables users to shop and buy your products. If you have a business, you can now have a digital storefront where you can host catalogs of your products, direct them to a site to buy, or just purchase on the platform itself without leaving the platform. This is huge since everything will be integrated within the platform. Its free and can be done by anyone. Customer support will be on another level since customer's messages will come directly to your phone. 
So, Why You Should Care About Social Commerce
It controls traffic to retail websites. If users don't make a purchase, the brand made an impression that can be nurtured into a purchase at other digital points.

It increases brand reach. An impressive number of users log in every day and actively search for products they're ready to buy.

It creates trust among clients. Social media is where people go to share things with friends and, be social. It's a channel through which users feel comfortable and express themselves. It allows creating a deeper relationship with them by offering the opportunity to buy goods.

It is a key component of a great experience. Social media is a gateway because if users see something they love in their news feed, social commerce lets them click straight through to the website, ensuring a smooth purchase journey.

It thrives on the community. Building a strong brand community on social media increases repeat purchases and drives new customers by creating an experience that users want to share in and a brand they want to follow.
So how do you get customers from social? Use special Hashtags, Paid ads, reactive marketing techniques, influencer marketing, and call to actions.Don't put yourself at a disadvantage. Get your social commerce campaign started today. Having a social media strategy that addresses these elements will set your brand up for social commerce success this year.Business and eCommerce in Kenya is evolving. How do you plan on using social commerce? What trends and platforms do you see emerging? Post a comment and let's hear from you. 
Follow us by subscribing down to our monthly newsletters for more marketing insights and eCommerce in Kenya, on how to grow your business.  Growthpad Digital Consulting will walk with you on this journey of exploring online marketing strategies, that are specifically tested and proven to deliver you results. Engage us today by booking a FREE 30 minutes strategy session with our team here.